VibesCast #4: Grant Skinner Joins Vibes + Logic as Patent Co-inventor and Technology Advisor
Bringing 2 decades of multi-platform app architecture and UX expertise
We are excited to share that gskinner's Founder and CEO, Grant Skinner, has joined Vibes + Logic as a co-inventor of Vibes + Logic's immersive music experience patent and advisor, guiding our multi-verse (Metaverse + IRL) app technology architecture and user experiences. Grant has been delivering cutting-edge digital solutions for two decades. As CEO of gskinner, he leads a top-tier team building best-of-breed apps, physical installations, and experiences for brands including Microsoft, Google, Facebook, Disney, NASCAR, and EA. His award-winning work earned Grant prominent speaker engagements at creative and technology conferences around the world including SIGGRAPH, Adobe MAX, Google Flutter Interact, GDC, Apps World, and FITC.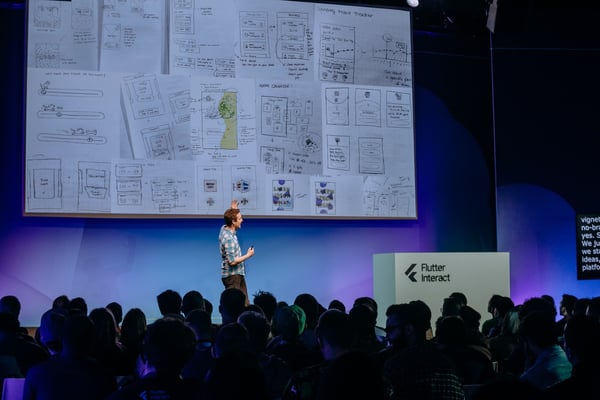 Grant and V+L CEO Ivan Todorov have collaborated on digital experiences since the Flash days, when Ivan was CEO at BLITZ. The two shared a passion for interactive experiences and worked together to build award-winning projects for Activision, Adobe, GE, Microsoft, and Star Wars. As agency entrepreneurs, the two shared technology best practices, agency operations insights, business development and marketing strategies.
As an Advisor and Co-inventor, Grant will help conceptualize, design, and build immersive experiences and creator tools/apps across platforms, screens and devices – including XR, web, and mobile. His extensive, hands-on industry experience will provide crucial guidance to Vibes + Logic as we're mapping out and designing long-term digital solutions.
If you'd like to know more about Grant, we've recorded a VibesCast with Grant and Ivan. In it, they explore how to hire and retain an all-star team, discuss the evolution of the tech industry, and talk about the various places where tech leaders can find inspiration to innovate. This VibesCast series is part of our transparent roll-out strategy to deliver valuable content to the @LumensNFT community. VibesCasts are casual in nature but offer deep and thoughtful discussion about the future of music, music visualization, and immersive experience topics.
At the end of the video, Grant accepts his personalized 1/1 Lumen NFT, in orange, to celebrate gskinner's "OG" company color. It also features his beloved dog Gir, laser eyes to represent Grant's entrepreneurial focus, and green code particle effects as a nod to his coding roots. Grant's 1/1 NFT will be minted in our special V+L Braintrust collection.
If you wish to be notified of future VibesCasts with our advisors and Braintrust, please follow:
Vibes + Logic on LinkedIn: https://www.linkedin.com/company/vibesandlogic
Vibes + Logic on Twitter: https://twitter.com/VibesAndLogic
LumensNFT on Twitter: https://twitter.com/LumensNFT
To learn more about Grant's digital agency, please visit https://gskinner.com/.