VibesCast #5: Richard Blakely Joins Vibes + Logic as Advisor of Streaming Tech & Infrastructure
Co-Founder of Millicast, Influxis, and Xirsys brings two decades of streaming expertise
We are excited to share that Richard Blakey, Co-Founder of Millicast and CEO of Influxis and Xirsys, has joined Vibes + Logic as a streaming tech and infrastructure advisor. Richard is a visionary and veteran in the streaming and real-time communications industry. Among other achievements, he introduced the first media server hosting service Influxis, the first WebRTC infrastructure platform Xirsys, and, most recently, he spearheaded the real-time broadcasting platform Millicast which was acquired by Dolby in February 2022. Richard also developed the "Remote Presence" technology that allowed Elton John to virtually play 100 pianos around the world in his famous 2013 live streaming event. You can read all about it here and see it here.
Richard's inspiration comes from the idea of a "live connected world" where distance is no longer a barrier for immersive human interaction. His technology continues to be utilized by many of the largest brands in the world including Spotify, Vimeo/Livestream, Dolby, NFL, NBC, HBO, and Amazon Prime.
As an advisor, Richard will guide Vibes + Logic's low-latency, multiverse (Metaverse + IRL) experiences across platforms, screens and devices – including XR, web, and mobile. His extensive, hands-on industry experience will provide crucial guidance to Vibes + Logic as we're mapping out and designing long-term digital solutions.
If you'd like to know more about Richard, we've recorded a VibesCast with Richard and Ivan. In it, they explore the evolution of streaming and how it can be improved, the future of web3 NFTs, and the OG days of computer graphics (including a rare peek at Ivan's first website). The VibesCast series is part of our transparent roll-out strategy to deliver valuable content to the @LumensNFT community. VibesCasts are casual in nature but offer deep and thoughtful discussion on various topics including the future of music, music visualization, and immersive experiences.
At the end of the video, Richard accepts his personalized 1/1 Lumen NFT. It features his favorite colors(green and purple) and showcases his trademark hair curl. The laser gaze represents his entrepreneurial focus and the glitch effect pays respect to his 20 years in streaming. Richard's 1/1 NFT will be minted in our special V+L Braintrust collection.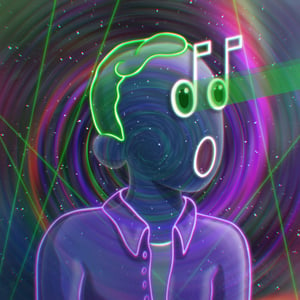 If you'd like to be notified of future VibesCasts with our advisors and Braintrust, please follow:
Vibes + Logic on LinkedIn: https://www.linkedin.com/company/vibesandlogic
Vibes + Logic on Twitter: https://twitter.com/VibesAndLogic
LumensNFT on Twitter: https://twitter.com/LumensNFT
To learn more about Richard's companies, please visit Xirsys, Influxis, and Milicast.