VibesCast #11: Aaron Wahle Joins Vibes + Logic and the Lumens 👀🎵 as a Brand & IP Advisor
Sony Pictures, MGM, and start-up vet brings 20 years of global IP marketing expertise to extend the Lumens 👀🎵 into new worlds.
We are excited to announce that Aaron Wahle has joined Vibes + Logic as our brand and IP marketing advisor. Aaron is providing guidance on bringing Vibes + Logic's first digital product, the Lumens 👀🎵, into the pop cultural realm by connecting our IP to other creators and new audiences. Aaron is known for award-winning global campaigns for movie franchises while at Sony Pictures, including The Amazing Spider-Man, James Bond 007 (Skyfall, Spectre), and Blade Runner 2049. Over the course of his career, Aaron has created and executed over 100 global media and marketing campaigns for movie studios including Fox, Universal, and Warner Bros. His unusual and innovative approaches to delivering global audiences had him recruited out of the studio world for JustWatch. As head of Marketing and BizDev for the Berlin-based start-up, Aaron pitched, sold, and ran media campaigns with streamers including Netflix, HBOMAX, and Amazon Prime. In a short time, the platform was available in over 120 countries and was acquired in 2020. Aaron then went on to run marketing for Seth MacFarlane's Fuzzy Door productions, re-launching the legendary series Cosmos and the 20th season launch of the iconic American Dad. Now, Aaron regularly works with top agency partners, production companies, and start-ups at a global scale.
Aaron and V+L CEO Ivan Todorov have a 20-year working relationship, having worked at BLITZ twice over the course of a decade and consulted with each other through multiple businesses, agencies, and studios.
As V+L's brand, IP, and marketing advisor, Aaron's first assignment will be the hoodies (always the hoodies). After that, he will focus on taking the Lumens 👀🎵 brand and IP developed to date, extending it, and integrating it into other creator universes, film/tv placements, and supporting the music community through creative partnerships.
The Lumens 👀🎵 were originally designed to appeal to the vibrant, diverse, and inclusive EDM music festival community who love music with tightly-synchronized visuals, emotional lighting, and of course—lasers. The collection minted out in just 21 minutes as a free mint, and 8888 ETH tokens (NFTs) have generated 640ETH in trade volume (~$830,000) with only 6% listed for sale by their 2,240 owners.
Blockchain analytics show that 90% of Lumens haven't changed wallets in the last 1-3 months, indicating "diamond hand" holders who believe in the project roadmap, and a healthy owner distribution.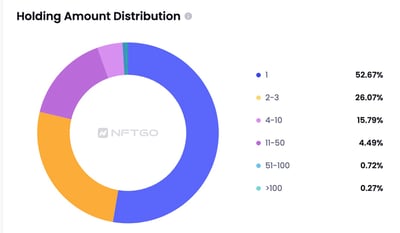 Today holders benefit from a commercial license to the art, a software license for the V+L Creator Studio app, and early access to all future synchronized, 3D, immersive music experiences that Vibes + Logic makes possible.
Now that we've witnessed our community fall in love with their Lumens 👀🎵, we're investing in exploring how the Lumens 👀🎵 can be further developed as a web3 Metaverse IP.
If you'd like to hear Aaron in action, we've recorded a VibesCast on Twitter Spaces discussing strategies for scaling web3 IP globally. The VibesCast series is part of our transparent roll-out strategy to deliver valuable content to the Lumens community and entrepreneurs around the world building in web3 and beyond. VibesCasts are casual in nature but offer deep and thoughtful discussions about topics such as web3 IP marketing, the future of music, music visualization, and immersive experiences.
Mart Biemans, the Lumens 👀🎵 artist, has created a custom 1/1 Lumen to celebrate Aaron's arrival, incorporating a glitchy static effect, reminiscent of a TV without a signal, as a nod to Aaron's background in the entertainment industry. The design also features smokey, colorful, and fun FX. Aaron's 1/1 NFT will be minted in the special V+L Braintrust collection.
Vibes + Logic's purpose in the world is to immerse people into a better state of mind through the power of music visualization. We're enriching the way people experience music, by binding complementary, AI-driven visual experiences on a proprietary streaming protocol.
Aaron is the latest addition to a team of seasoned entrepreneurs, industry experts, and advisors Vibes + Logic announced earlier this year:
🚨 Vibes + Logic will be raising its seed round in Q1, 2023, and is currently gathering early interest from potential investors here:
https://www.vibesandlogic.com/vibes-logic-seed-round-early-bird-pitch-preview-registration
If you'd like to be notified of future VibesCasts with our advisors and Braintrust, please follow:
Vibes + Logic on LinkedIn: https://www.linkedin.com/company/vibesandlogic
Vibes + Logic on YouTube: https://www.youtube.com/channel/UCviXhqT1QsksN1gmC0_1Sdg
Vibes + Logic on Twitter: https://twitter.com/VibesAndLogic
LumensNFT on Twitter: https://twitter.com/LumensNFT